Design custom worktops for workstations and workbenches quickly and easily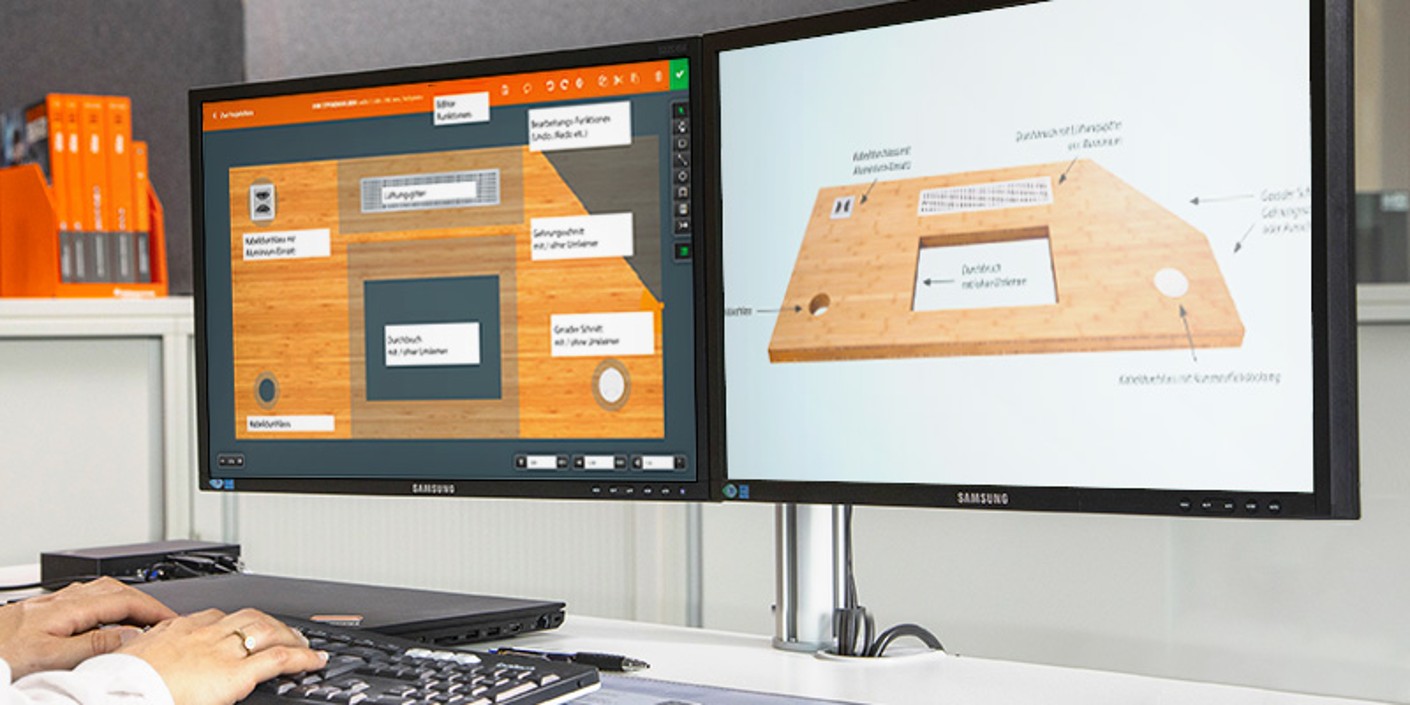 The eShape online configurator is an ideal platform to start configuring your custom worktops
Would you like to design worktops that meet your needs? Our online configurator enables you to seamlessly design shorter worktops, cut-outs or cable pass-throughs based on your specifications. Using craftsmanship and modern technology, we will manufacture your new worktops precisely, so that you can assemble them immediately upon delivery.
Customisable configuration online
Our online configurator allows you to design bespoke worktops yourself. You determine where to place your cable pass-through, ventilation grille etc. in the layout. The graphical editor gives you an impression at the design stage of how your worktop will look later on.
Easy to use
You don't have the tedious task of downloading software. Simply insert and place elements in the online configurator using the drag-and-drop method. Your designs are permanently saved so that you can edit them and reorder them at any time.
Complete cost transparency
Thanks to the online calculations, quotation and project archive, you always have an overview of the costs. Reordering worktops that you have ordered before is very straightforward – and all for the best price-performance ratio
Prerequisite: you need to be registered for our eShop if you would like to use the eShape configurator.
It's really fast and simple to configure your worktop
1. Basic steps
Enter www.hoffmann-group.com into your Internet browser.
Sign in to the eShop or create an account.
You'll find the online configurator under Service / Workstations and storage / eForm & eShape.
You do not need to download or install eShape; it can be used directly in your browser.
2. Configuration
Create your project.
Select your product.
Specify your formats.
Start configuring your worktop using the editor.
3. Final steps
Lastly, submit your request for quotation and you will receive your personal quote.
Then, all that is left to do is to place your order, and you will soon receive your customised worktop.
Do you have any questions? Would you like to arrange a consultation?
The Hoffmann Group provides you with everything from a single source:
We help you to optimise your workstation
And provide you with the right customised worktops.
To consulting
Additional information inlays
Find out here how you can increase your work productivity and reduce your costs with inlays made from rigid foam. You can also find out all about our range of ready-made inlays.